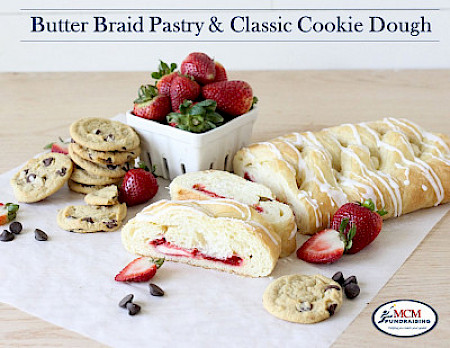 If you're looking for some back to school fundraising ideas in Torrington, CT, check out MCM Fundraising Inc. today! When selecting a fundraising program, it is important to choose one that is unique from the rest. At MCM Fundraising Inc. we are proud to offer a variation of award-winning programs. Not only is a unique program a must, but you must also have the motivation and a selection of products that will grab the attention of your audience. Thankfully, at MCM Fundraising Inc. we offer all of this!
Fundraising can be a crucial factor when finding enough money for trips, equipment, and more. Students deserve as many extracurricular activities as possible, and more often than not, fundraising plays a huge part in that. With the help of our programs, we give schools the opportunity to overcome budget issues and enjoy those activities.
Currently, at MCM Fundraising Inc. we are promoting Butter Braid pastry & Classic Cookie Dough fundraisers! When you schedule either of these fundraisers now, customers will receive the items in time for Thanksgiving. As with all of our programs, the schedule fills up fast! We strongly recommend getting these programs booked sooner rather than later to take advantage! It's important to note, then when you arrange delivery for the first week of November, you will receive a 2% discount on your invoice. 
How Can We Help?
At MCM Fundraising Inc., we want every student to experience as much as possible. We offer tried and tested fundraising programs to guarantee that you will raise the money needed. Customers cannot resist our products, especially around the holiday. Seasonal coffee, specialty items, and beloved favorites are sure to sell! 
When you work with MCM Fundraising, you can raise your funds quickly. We service all of Rhode Island, New York, and the other New England States. To learn more about our services, call 1-888-774-5889 today.