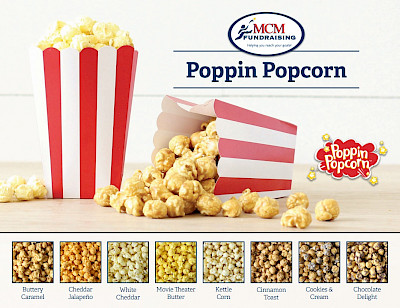 Our popcorn fundraiser runs a little differently than our frozen fundraisers you may be familiar with.
With amazing benefits like being delivered prepacked by participant and shelf stable products, making for flexible delivery, Poppin Popcorn could be a great fundraising fit for your organization!
Here's how it works:
-Pick a selling timeframe and delivery day for your fundraiser that works with your schedule! Most groups run for a 2-3 week period!
-Distribute your customized fundraising forms, if you choose to utilize them, for the start of your fundraiser. 
-Review your online and offline sales before submitting your final order to MCM by your deadline.
-We'll review your order and send it along to our manufacturer.
- Sales with over 100 items sold will have a predetermined delivery date and will be delivered to the organization prepackaged by seller. Boxes will arrive numbered, alphabetically, by seller.
- Sales under 100 items will be shipped directly from our manufacturer via FedEx bulk shipping, and will arrive at the organization during business hours. Sales under 100 items will not arrive prepacked, and will need to be organized by the group upon delivery.
Unlike our frozen products, popcorn is shelf stable, so you can give yourself time to get organized between when the product arrives, and when you have customers pick up their popcorn!
40% Profit!!
$12 Half Gallon Bags                               
Butter Caramel                                                
Cheddar Jalapeno
White Cheddar
Movie Theater
$18 Gallon and Half Gallons Specialty Bags
Butter Caramel                                                
Cheddar Jalapeno
White Cheddar
Movie Theater
Kettle Corn
Cinnamon
Cookies & Cream
Chocolate Delight
Download Flyer