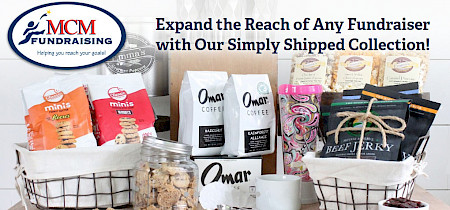 MCM Fundraising Inc. has profitable and convenient online fundraising programs for your Middletown CT schools. A professional fundraising company, we offer time tested product fundraising programs in the New England region. Our newest development is our ecommerce option with direct shipping to your family and friends locally and nationwide.  
MCM has made school fundraising simple using the convenience of internet and social media tools. Students maximize their efforts and increase sales with online purchasing, credit card payment, social media networks and texting! This means increased participation and automatic reminders - saving you time and making you the most money! Earn up to 50% profit!
The MCM Team partners with your group to facilitate sales and delivery. You enter participant email addresses or phone numbers, and we do the rest! Our email-based system automatically reminds participants to stay motivated and engaged throughout the fundraiser so you don't have to!
Our e-fundraising option takes advantage of today's technology to keep your team engaged. One of the secrets to a successful school fundraising campaign is engagement and enthusiasm among your students. We find that among high school students, staging a fun activity will get people talking about your school and your fundraising efforts in the community. It helps when your students share their reasons for working hard toward their cause.
MCM Fundraising has had the pleasure of working with hundreds of Connecticut school fundraisers. With enthusiastic support from teachers and an inspired student body, you can quickly earn the funds needed with our help. We offer fundraising Programs that feature outstanding products that all generations will enjoy. Join us this school fundraising season and enjoy sweet success! Call 1-888-774-5889 today.
Please visit our Facebook Page!